HOW TO FORMULATE AN INBOUND MARKETING STRATEGY | RA MARKETING
In our previous posts (cilck here) we talked about inbound marketing and how to increase lead generation using inbound marketing. In this post, we'll talk about How to Formulate an Inbound Marketing Strategy using a simple checklist of six steps.
In a nutshell, setting up an inbound marketing strategy will require you to set goals, create the basics, automate the processes, andanalyse the results. You'll be able to do this following the steps below:
Download our FREE Checklist: How to Run an Inbound Marketing Campaign →here
Step 1: Setting goals 
Your business needs to define its goals. What do you want to achieve by running this campaign? Without clear goals, you will not able to create a roadmap of how to get there. Having a clear set of goals (keep it short and simple), will help you define the KPIs that are an indicator of how the inbound marketing strategy is doing. As a start, you can look at your competitors, your industry, target market, and your current ranking in the market.
Discover– You and your team will discuss your key metrics, revenue goals, and your sales process to produce the best customized strategy
Create a buyer persona– A deeper understanding of who your target market is provides a direction for the content you create. You can use various analytics tools and surveys to represent who your buyers are, what they want to accomplish, pain points that shape buying behaviour, and how they make buying decisions.
Industry research- You must understand who your competitors are, as well as have an overall picture of the industry. Where is the gap? What can you offer that will differentiate you from the others?
Step 2: Creating visibility
Now that you know your target market, you'll need to find out how they are searching for your content through a keyword search. What do they type in the search box when looking up information related to your business? When you know this, you'll see estimated global and local search volume, ranking difficulty, and you'll be able to predict the cost of running a campaign. Through this research you'll be able to pick out which phrases and keywords to use to attract your target market.
Onsite SEO - Onsite SEO consists of all the factors that make up the content of your website page and influence search engine ranking. To get found for the keywords in your keyword strategy, tailor the content on each page to optimise results. All pages should include the appropriate keyword within the content, page properties, and the image tags. Do this for all current and future pages.
Editorial calendar - Before you start on your SEO and blogging campaigns, come up with an editorial calendar to keep track of your publications and ensure you're publishing regularly. A calendar will help you time your releases to fit industry developments or promotional campaigns.
Blog writing, posting - Blogging is the core action that will bring relevant traffic to your website. Keep your content based around your buyer personas and make it useful and relatable. Keeping up with blogging is high priority in making your website visible in the search results. The more frequent you blog, the more visitors you will attract.
Pay per click– PPC campaigns give you the chance to put your messaging in front of an audience that is looking for it. Besides search engines, PPC is now also available on various social media platforms.
Social marketing– Social media is THE platform for sharing content. It is likely that your audience is on at least one platform. Social media is the gateway for prospects to find your site so keep your content updated and relevant.
Step 3 – Getting leads 
Once you've gained the attention of your target audience, you'll want to convert them into leads. Here's what you'll need to be able to do that:
Premium content – Excellent content converts traffic into leads. Premium content offers your audience unique information that has high value. If they like it, visitors will fill out a form providing their contact details to gain access to your premium content. Examples are webinars, e-books etc.
Landing page design –Here's where all your premium content will be, so put a lot of effort into it. A good landing page is eye-catching, properly designed, and attracts new leads. A good landing page will trigger a desired user action, which is what you want your visitors to do once they land on your page.
Call-to-action creation –A CTA is the determining factor in whether or not your website can generate leads. Examples of CTA are "sign up" or "buy now" buttons, so its always good to make these as attractive as possible. You can design A/B CTA test groups and position them on various pages throughout your website to facilitate lead generation.
Step 4: Acquiring customers 
Alignment of sales and marketing - CRM integration allows you to provide your sales team with information that will enable them to know the lead better and make them better equipped for sales calls. CRM systems can track every action a lead takes on your website, email marketing, and social media platforms.
Lifestyle communications– Get to know your potential customer better by creating a lifecycle lead plan based on the website content and sales funnel. A lifecycle lead plan will enable you to segment your potential customers based on who they are, what actions they took on your platforms, and what kind of content you want them to receive. Segmenting your potential customers will enable you to create a more focused approach.
Lead nurturing– Lead nurturing campaigns allow you to move a lead through the sales funnel.
Automated workflows– Workflows help you automate common marketing processes to push your leads through the sales funnel efficiently. Sending marketing emails, changing contact properties, and sending internal notification emails, are all possible with workflows.
Closed-loop reporting - With closed-loop reporting, you can plan more strategically for the future by focusing on your best lead sources, those with the best lead to customer conversion rate.
Step 5: Retaining customers
Your relationship with the customer shouldn't end the minute they make the buy.  You can focus on turning customers into promoters of your business. Options for continued retention processes include implementing referral programs, continued customer education pieces, and segmenting customer newsletters. Word of mouth from a happy customer works better than any form of generated marketing.
Continued education pieces- Newsletters aren't just for leads and potential customers; you can send segmented customer newsletters so they continue to see you as experts in your industry.
Referral programmes- A referral customer comes at a much lower cost and has a higher potential for retention and loyalty. If applicable, come up with a programmes that will encourage the customer to talk about you service to their friends and peers.
Step 6: Account analysis
Marketing benchmarks – Always analyse your marketing benchmarks. These metrics include customer acquisition cost (CAC) and ratio of customer value to CAC which is the total value that your company derives from each customer compared with what you spend to acquire that new customer.
Onsiteanalysis- Consistently performing a full onsite analysis of your website is crucial in ensuring your information is relevant and up-to-date.
Offsite analysis– This goes hand in hand with onsite analysis and measures your online presence away from your website. This includes paid search campaigns, social media accounts and paid social campaigns.
Monthly reporting– Keep track of your goals based on your KPIs, and make changes where necessary.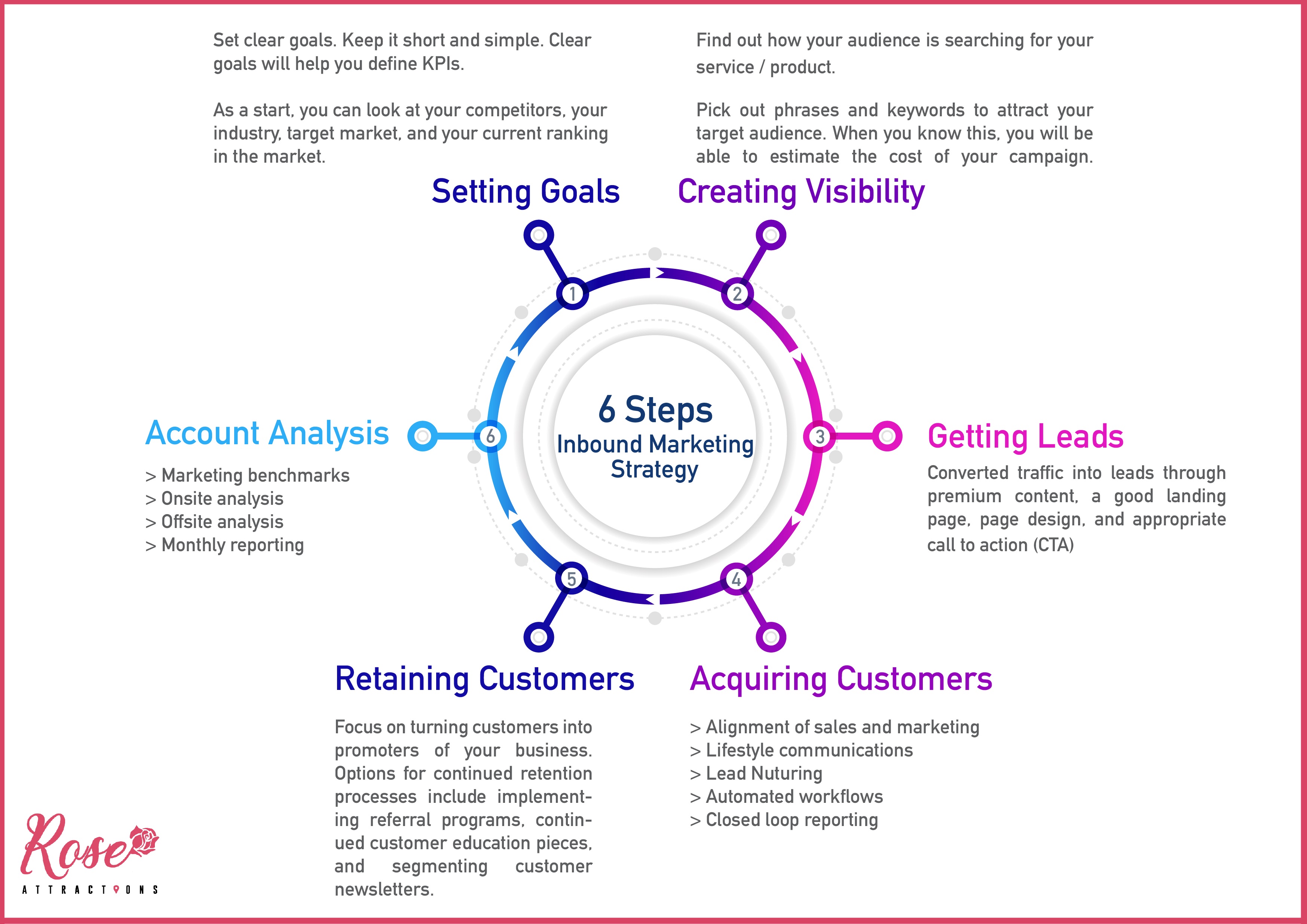 Like what you read? Subscribe for our blog now!