FACEBOOK STEPPING INTO SEARCH MARKETING
After nearly a year of testing for ads to appear in  Facebook search  results since December 2018,  Facebook  is finally rolling out  the  search ad placement to all marketers starting 18 Oct 2019, as reported by  Facebook. 
The ad which looks like the one on Facebook's News Feed will also show up within Facebook main search results or Facebook Marketplace – where seller and buyer can list the product and services they wanted to sell and gain access to local audience. 
 
How Facebook Search Impact Marketer 
Apart from showing your ads to a target audience group who may fit your buyer persona but may not be looking out for your products or services right now, you can now include audience who currently has interest on your product in your ad placement. Theoretically, this new marketing channel should help you reach the ready buyer at the right time - aligned with our inbound marketing  methodology, which could translate into much better conversion.  
Marketers could try this new addition to see if it could improve your existing Facebook campaign result or not. Due to the cost increment for Facebook ad,  some marketers have moved away from conventional Facebook ad on News Feed, to Instagram Stories to continue tapping on Facebook's huge audience base due but at a lower price tag. 
 
 
How to Use Facebook Search 
Unlike the predominant search marketing leaders like Google Search and Microsoft Bing, Facebook Search Marketing is currently offered as an extension of a normal ad placement on the main section called Facebook News Feed. You can find the new feature only when you are creating a Facebook Ad. 
 
Step 1: Create your Facebook Ad  
Step 2: Go to Ad Placement  
Step 3: Choose  Automatic Placements  for your ad 

All new Facebook ad campaigns using Automatic Placements will automatically include Facebook Search Result placement. 
If you do not wish to have your ad campaigns extend to general search result or Marketplace, you may go to edit placement > uncheck the box "Facebook search results".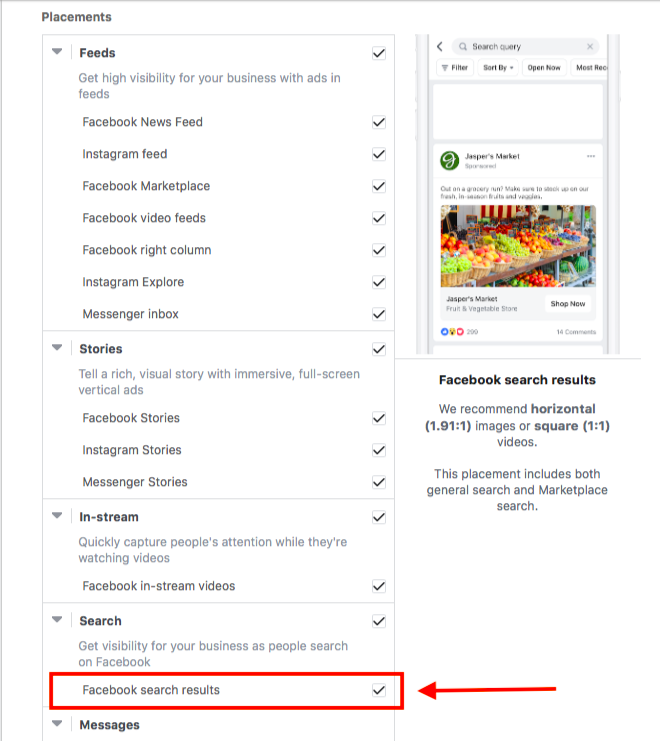 How does the Ad in Facebook Search look like? 
Same headline, image, and copy text used for the News Feed placement will be shown in the search result. 
Marketers could include single image, carousel, and video ads as the creative options. 
Is Facebook Search Effective? 
From the steps above, you could see that marketers are not allowed to choose or bid for keywords of their choice. That means marketers do not specify the search terms, the ad will be shown when users' search terms containing commercial intent or related to e-Commerce, Retail or Automobile. Currently, it is observed that the position of the Facebook ad in search result is below of organic result. 
 
We could see that Facebook has been offering more intent-based marketing channels e.g. Facebook Marketplace, shopping on Instagram, and now the ad within Facebook search result, however, the effectiveness of these marketing channels as compared to Google Search and Microsoft Bing are still questionable.  
 
If you are planning your marketing budget, you may spare a bit of your budget on Facebook Search to test the effectiveness. If you would like to see how Rose Attractions' holistic approach to marketing delivers a better ROI, fill in the form below to get in touch with us today. 
Like what you read?  Subscribe to our blog now!